1918 Collection
Connect with your identity
A tribute to our icons
This collection is inspired by the original colours and design of MILAN erasers, made in Spain since 1918. An iconic product and childhood memory for many generations. At MILAN, we have watched you growing up and been by your side during your learning. We have been collaborators and witnesses to all that you have written and all that you have erased. This collection is about you and all those memories and experiences that make you who you are today.
A collection of essentials for today, with the same essence as always
A line of essential everyday products, with an iconic design that connects with your identity. Made from high quality materials and 100% practical, just like MILAN erasers. For organising and carrying everything you need during the day, protecting your essentials and taking care of your food and hydration to keep you energised throughout the day.
Organisation and protection
Bottles
Isothermal bottle
Bags and containers
Isothermal bags and containers
Stationery
Pencil cases and stationery
Combine products to suit your needs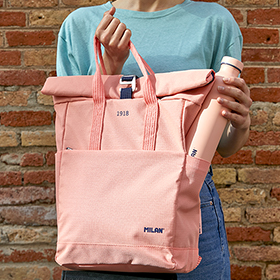 For the organised
A place for everything and everything in its place. Carry all your essentials in the backpack's different pockets and compartments. Add a matching bottle to stay hydrated at all times.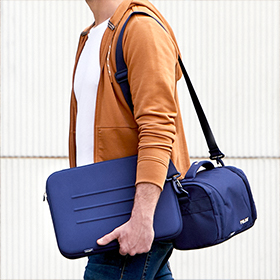 For the protectors
Protecting your laptop is a must. The combination of semi-rigid material and the ripstop fabric makes this one the best case for your computer. Additionally, the insulation of MILAN's isothermal bags ensures your food is perfectly preserved.
For foodies
For those who like to take care of themselves by eating well and staying hydrated throughout the day. Combine the bottle with the isothermal bag that best suits your needs and contribute to a more sustainable future by avoiding single-use plastics.
For phygitals
In an increasingly digital world, the passion for analogue and "handmade" items is growing. In this digital age, the pleasure of writing and the passion for stationery is becoming more and more common. Combine your laptop case with a pencil case and matching stationery such as correction tape, pencil sharpeners and staplers.